Here's another edition of our critically acclaimed column, which Citwit Mike Crozier says, "I really love 'LANE 9' a lot, so please keep it going. It's as if I've got Scott and Chris hanging out in the office with me productively bantering. Like cooler talk, sans non-running related banalities." I've got some bad news for Mike. This week, it's just me because we're letting Scott rest up after a big weekend at the Prefontaine Classic. We'll hear more from the Pre Classic Blog Boys over the coming days.
For this week's column, I decided to revert back to my exclamation scale to judge performances. A few weeks back, I introduced the following:
Mother Goose! This one will be used for things like world records or something extraordinary.
Heavens! This will be used when something is very, very impressive but not quite record-setting.
Golly! I'll reserve this for 'Well, that was fast!' moments. It's a fun substitute for "Wow!" which tends to be overused in epic sports moments.
Neat! This one is saved for interesting and quirky moments that maybe don't happen too often.
So without further ado, here's what we have from this week:
Welcome to Lane 9
Opinions you didn't know you wanted to have (from Chris Chavez and Scott Olberding)
Mother Goose!
The highlight of the meet was 17-year-old Jakob Ingebrigtsen clocking a 3:52.28 for fourth place and closed with a 55-second final lap in the Bowerman Mile. That's quicker than Alan Webb's 3:53.43 at the Prefontaine Classic as an 18-year-old star out of South Lakes High School.
2017 world championship silver medalist Timothy Cheruiyot of Kenya won the race in 3:49.87 but the Norwegian teen was the talk of the race. Jon Mulkeen was quick to point out that Ingebrigtsen's time is a European U20 record and a best for a 17-year-old. We gave some props to Ingebrigtsen in the last edition of Lane 9 for beating Matthew Centrowitz and Paul Chelimo at the Stanford Invitational and he managed to beat Centrowitz (the Olympic champion, in case you forgot) again.
If you re-watch the race, you can see that Ingebrigsten was all the way in the back in the first lap and moved his way up as the race progressed. By the time he hit the bell lap, he was in ninth and then picked off those who fell off the quick pace.
Nick Willis pointed out on Twitter that it was really similar to how Webb ran the race in 2001. He added, "We should celebrate Ingebrigsten's incredible 3.52 mile at 17, but I also want to give hope to those who are late developers. There are lots of different paths to the top. Be patient, and focus on slow but steady improvements each year."
If you're wondering about the Americans, Clayton Murphy and Centrowitz were just behind Ingebrigsten and that's a good sign considering both of them were a little banged up in recent months.
Heavens!
Noah Lyles pops a massive personal best of 19.69 to handily take the 200m at the Pre Classic.
When he went sub-20 early in the season last year, it was easy to get excited about the next great U.S. sprints talent. Then he got injured and you're cautiously optimistic for a return. Earlier this month, he won in Doha. You can be sold after this performance. That's two Diamond League victories in May and we're just getting started. In his nearly nine-minute vlog to explain a 20-second race, Lyles reminds us that around this time last year, he was in a doctor's office in Germany getting work done to come back. It's the same doctor that treated Usain Bolt and just like Bolt we're seeing magic after the fact. Highly recommend that you take some time to watch his breakdown of the race. Not only is he great to watch on the track but he's also fun to listen to.
You can watch the race below:
And if you're keeping track at home, we posted our podcast with him on April 30 and since then: he's won at the Doha Diamond League, Boston Boost Games and now the Prefontaine Classic. People forget Des Linden came on the CITIUS MAG Podcast and then won Boston. It just might be the luckiest podcast in track and field…just saying. (So subscribe on iTunes)
Golly!
Michael Norman came through for his USC Trojans 4x400m in nearly-historic fashion. At the NCAA West Regional, he managed to catch Texas A&M on the anchor leg and was clocked at 43.06 for his leg. Only former world record holder (that's still weird to write) Michael Johnson's 42.94 split at the 1993 World Championships in Stuttgart, Germany is faster. In that relay, Butch Reynolds split 43.23. It's incredible to watch the U.S. in a league of their own after the first leg by Andrew Valmon.
You can watch Johnson's leg here at the 7:22 mark: 
I'm very excited to see what Norman can run at the NCAA championships and then maybe in an open 400 against the likes of Fred Kerley at the U.S. Championships. Don't forget that in March, he ran 44.52 to win the men's 400 at the NCAA Indoor Championships. We're starting to think that this entire column is just a different version of "The Teens Are Running Fast" every week.
Golly!
Shelby Houlihan becomes the fifth-fastest American woman at 1,500m with her 3:59.06 win ahead of Laura Muir and Jenny Simpson. Her PR going into the race was 4:03.39 from the 2016 Pre Classic, where she finished seventh. Only Shannon Rowbury, Mary Slaney, Simpson and Suzy Favor Hamilton have run faster in U.S. history. This marked the first time that Houlihan has beaten Simpson in eight races.
This makes you wonder what she could do with a full focus on the 1,500 meters for a season. She told reporters that she thinks the plan will be to shift to 5,000m training for the U.S. Championships. Last year, she won her first national outdoor title in the event and now looks to go back-to-back. The fact that she hasn't changed her Twitter handle from @Shelbo800 to @Shelbo5K gives us hope that she's not done testing herself at those shorter distances.
Simpson broke the 4:00 barrier for the first time at Pre in 2009. Saturday's time marked her ninth time under the barrier.
Here's a chart that was made by Scott while he was at the Pre Classic, where you can see what happens when Houlihan threw down a 59.86 last lap.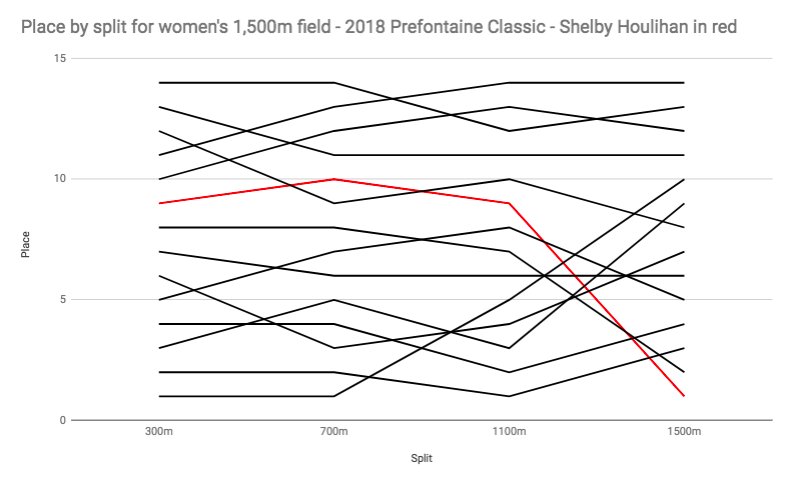 On Twitter, Scott posed the question: "Why isn't there as much hoopla around women breaking 2:00 in the 800 as there is for men breaking 4:00 in the mile? Both arbitrary round numbers. Both very fast."
Here's how some of you responded:
@HouseOfRay: is there really hoopla for a guy breaking 4? Maybe a high school boy, but there'd be a lot more hoopla if a high school girl broke 2
@NicoleBBush: #ExampleOfWomenNotBeingCelebratedEnough
@MGSoundVisions: Because the 1st sub-4 mile was a huge story in our history and even people who don't care about track know about it and know the name Roger Bannister. That still makes it seem like more of a big deal even now when it's fairly commonplace.
@kajoey: I thought there was. Who's saying there isn't
Odd and Ends
Kudos: Luke Matthews became the 400th sub-four minute miler at the Prefontaine Classic and he's coached by his mother so I'm sure that she was proud. Sara Hall continues to chip away time from her marathon personal best and ran 2:26:20 for third place at the Ottawa Marathon. Geoffrey Kamworor dominated at the 2018 TCS World 10K in Bengaluru, India by running 28:18 – just 34 seconds off his course record there. Mo Farah expectedly took the win at the Vitality London 10K but it good to see Callum Hawkins (42nd, 31:27) back to racing after his collapse in the Commonwealth Games marathon.